DayWithAPornstar presents: Nikki goes to Vegas for a tatoo and gets fucked after
Scene Title: Happy Birthday Nikki!
Storyline: Its Nikki's birthday and she is surprised by the Brazzers family with a free voucher to Last Chance Tattoo. She goes through the day anticipating and deciding on what tattoo to get. The nerves get the best of her and fortunately Jordan is around to ease her, she gets more for her birthday than she could have bargain for.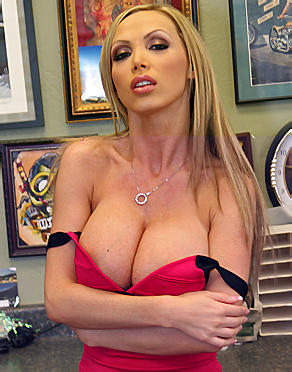 Daywithapornstar Nikki Benz HD Video Trailer
What people are saying about: Nikki Benz - Happy Birthday Nikki! daywithapornstar scene
Comment #1
best idea ever. film it like its reality tv. like on nikki's birthday in the mirror shot! most amazing scene ever!
Comment #2
Awesome scene. Nikki is amazing!
Comment #3
Nikki- What happened to the brown hair, not that you dont look amazing now. The soccer game scene was amazing. Please go back to brunette.
Comment #4
Nikki, You are one of the top most beautiful Blondes in the adult industry if not the most. When you give oral tilt your head back a little further and while you are sucking it, go down deeper. Don't release your mouth from the peanis that much. and while you are stroking it, unless he needs you to stroke him more, keep your hand choked up further on the peanis and stroke it less. This way we can see your beautiful face. You are so fucking hot!
Comment #5
Note to B-Twin, I was born in Ukraine, and since my dad's family is Canadian, my parents decided to move there when I was little. I am a Canadian citizen and proud, so technically I am Canadian by nationality, and Ukrainian by ethnicity. So yes, I am Canadian in every way ;)
Nikki Benz Daywithapornstar Picture Gallery