DayWithAPornstar presents: Rachel Starr in Jump & Hump episode
Scene Title: Jump & Hump
Storyline: Rachel & Scott have a date on a 10 story high bridge... The only little thing is that they'll have to jump off the bridge with a bungee cord, and not only once... about 6 times each and butt naked on top of that!!! That won't take the sex hunger away from them, au contraire, they'll want to fuck each other even more!!!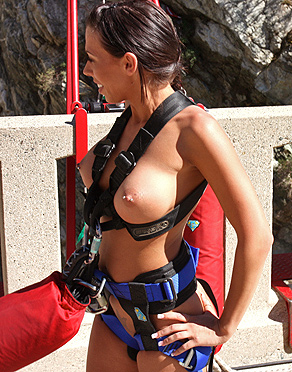 Daywithapornstar Rachel Starr HD Video Trailer
What people are saying about: Rachel Starr - Jump & Hump daywithapornstar scene
Comment #1
I wish my cock had an extra inch so I could co star with this hottie. Keep up the good work
Comment #2
she is the hottest pornstar out right now id do anything to fuck u
Comment #3
This makes the 4th time I've watched this scene... It's just awesome! Yeah Rachel, we'll be waiting to see how you top this one too! LOL!
Comment #4
I had watched parts of this scene a few times but this time I watched the entire scene. And wow do I love Rachel Starr even more. Now that I realize you are cool and funny off the camera it makes you so much more attractive. I love how you don't act like a stuck up bitch on or off the camera. You are a great Pornstar and person. Keep it up Rachel!
Comment #5
Scott you are the luckiest son of a bitch ever! First you go sky diving for your b day and bang 2 chicks at once then you go bungie jumping and bang Rachel Starr one of the hottest bitches out there! Scott Nails for fucking president HA HA! No but for real nice fucking scene Brazzers! Keep that shit coming!