DayWithAPornstar presents: Jayden loves to snowboard before recieving a big dick poundage
Scene Title: Up Close and Personal with Jayden Jaymes
Storyline: For the first time ever Brazzers is presenting their first feature length 'Day With A Pornstar' featuring the talented Jayden Jaymes in her most wild and personal adventures. This feature includes 3 sex scenes, wild partying, ski trip, pussy shaving, etc. So dive in and enjoy the next 90 minutes of Jayden Jaymes.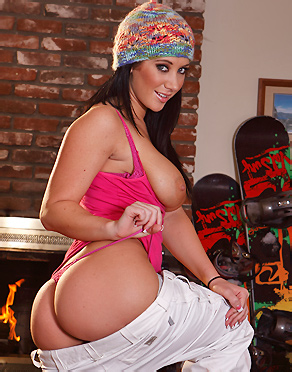 Daywithapornstar Jayden Jaymes HD Video Trailer
What people are saying about: Jayden Jaymes - Up Close and Personal with Jayden Jaymes daywithapornstar scene
Comment #1
Comment #2
Awesome stuff from Jayden again. Anyway, it's always awesome :D
Comment #3
OMG JJ ur fuckin sexy ur pretty AMAZING as well holla @ me i aint kno u smoke?? how sexy get @ me wen ur in jersey
Comment #4
1) I never comment on scenes, but i couldnt resist 2) This is one of the best i've ever seen. The non-staged scene, looks like two people who just want to fuck and dont even care about the static-camera. 3) Jayden is the best!
Comment #5
Jayden great scene hot as always. But when you are going to do ANAL! or a DP??? PLease it would be a masterpiece to see Jayden do ANAL , DP !!!!!! PLEASE!!!
Jayden Jaymes Daywithapornstar Picture Gallery