DayWithAPornstar presents: Chillin on the beach with big titted Sophie Dee
Scene Title: Beach, Boat and Big boobs
Storyline: Sophie Dee arrives in Miami to show off her tits and pussy on the beach! She does a photoshoot in an area of the Miami beach where clothes are optional and draws a lot of attention. after getting sand on her big boobs and butt she takes a dip in the water to get herself all clean and wet, then it's off to the marina! Sophie has some fun on her naked boat tour of the pier, takes a quick break to eat some pussy juice flavored fruit, then gets hungry for some big dick.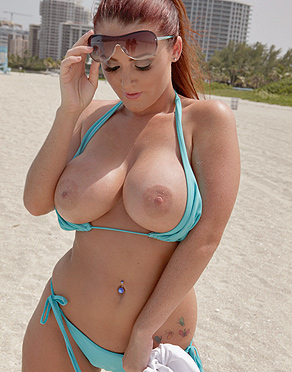 Daywithapornstar Sophie Dee HD Video Trailer
What people are saying about: Sophie Dee - Beach, Boat and Big boobs daywithapornstar scene
Comment #1
dAmn Sophie Dee u have gotten way hotter.. Good job on the boob job...Also went to a dentist and fixed those teeth.. Def would give sophie dee a 9 out of 10. Before she was a 6..
Comment #2
She is so damned cute. Great body, her red hair and shit on a stick...those baby blue eyes. I also second that motion that she has the prettiest eyes in porn. It's too bad she's married. :(
Comment #3
Sophie is probably the sexiest woman on this site. I absolutely LOVE her cute sexy voice, and her nasty talk, and her dark red hair. She's the total package and I hope she keeps putting up more scenes!! More Sophie PLEASE!!
Comment #4
She is definately one of the best right now. Enthusiastic and super hot. more of her fo sho! that dude did a decent job but his finger was kinda freakin me out a bit. Musta got it stuck in some miami snappin pussy. I have heard that shit is vicious.
Comment #5
Thats gotta be the best tit job I have ever seen in my life Sophie Dee!!! I would love to fuck you and finish by tittyfucking and making a mess all over those great big titties! WOW!
Sophie Dee Daywithapornstar Picture Gallery